Michael Schwartz Library
Special Collections
The Montage Film Collection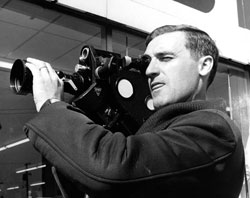 Montage Executive Producer, Dennis Goulden
The Montage programs, a filmed history of the 60's and 70's with a Cleveland perspective, is composed of more than two hundred and fifty documentary films which were shown on WKYC-TV, Cleveland's NBC affiliate, from September 1965 to December 1978. This nationally-acclaimed series captured the life-style of the Cleveland community during the 1960's and 1970's. It concentrated on Cleveland and Cuyahoga County, emphasizing local history, personalities, and the contribution of Northeastern Ohio to the world. Among the titles with strong local interest are: "Hough; From the Ashes" (riot-torn area of the 60's rebuilt), "The Depression Years" (anatomy of a depression), "Crooked River Dies" (how a polluted river is restored), "The Priest of Myoshinji" (an account of a trip to Japan to buy art objects by the former Director of the Cleveland Museum of Art). During its years on television, Montage itself became an important contribution, receiving more than two hundred awards.
In March 1980 the Montage series was given to Cleveland State University by NBC and Dennis Goulden, the Executive Producer. Fifty-three programs are available on 16-mm film and 3/4-inch videotape to schools, libraries, and community groups. Additional titles are available from the film library of WVIZ-TV, Cleveland's public broadcasting station. Borrowers may videotape the films on their own premises for educational use.
A website with 53 of the programs available for viewing online was made available by the Michael Schwartz Library in November 2012. Go to the Montage website.
Availability of these films was made possible through grants from NBC, the George Gund Foundation, the Nathan L. Dauby Charity Trust, and the Treu-Mart Fund. There is a brochure on the available films.