Montage: A Filmed History of the 60s and 70s with a Cleveland Perspective
Local Focus — National Acclaim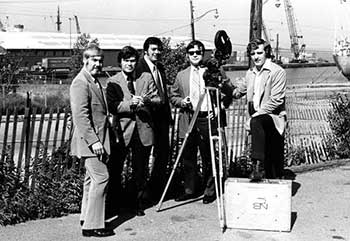 Montage
crew at the Port of Cleveland, (l to r) Jon Boynton, Howard Schwartz, Dick Mrzena, Gary Robinson, Dennis Goulden.
Montage was a television documentary program that aired in Cleveland on WKYC-TV, NBC from September 1965 to December 1978. This dramatic and professional series focused on Cleveland and Cuyahoga County, emphasizing local history, personalities, and the contribution of Northeastern Ohio to the world. Episodes of Montage addressed serious issues of the 60s and 70s such as the Vietnam War, pollution, race, homosexuality, drugs and crime.
Among the personalities featured on Montage were Cleveland Orchestra director Lorin Maazel and Cleveland Browns coach Paul Brown.Guest hosts included comedian Bill Cosby and actor Robert Stack. Under the direction of Executive Producer/Director Dennis Goulden, Montage won more than 200 awards, including several Emmys. Today, as a collection, it stands as a unique visual record of two turbulent decades in Cleveland's history.
Guide to the Montage Collection
Includes 16mm black and white and color broadcast masters, 16mm black white and color partial reels, 16mm color and black and white camera negatives, 16mm color and black and white outtakes, Nagra audio tapes, and production documents.
Note: this is a finding aid to the physical collection housed in the Special Collections at Cleveland State University's Michael Schwartz Library. Only programs listed below have been digitized.
The Episodes
Of the more than 250 episodes of Montage produced, 53 programs have been digitized and made available here online through the efforts of the Michael Schwartz Library, Cleveland State University.
Browse through the list of programs below or use the search box.