Michael Schwartz Library
Special Collections
(physical collections temporarily closed, Spring 2021)
Spring semester 2021, access to our building is limited to floors 1 and 2, and to current CSU students, faculty and staff. VikingCARDS will be required for swipe access. Visit our Continuity of Library Operations &amp Services page for updates - and remember, we ARE working and available to assist you, wherever you are.
Please get in touch!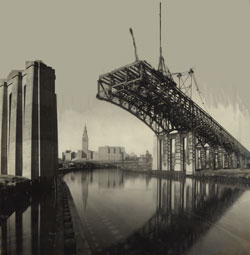 Michael Schwartz Library's Special Collections provides a research facility for our students and faculty, as well as for scholars and visitors from around the world. Our collections cover many topics within the field of Cleveland history, with special concentrations on the industrial history of Northeast Ohio, Cleveland journalism, and the city's infrastructure. We are also home to publications from the University Archives about CSU and its predecessor, Fenn College, including college bulletins, course schedules, newspapers, yearbooks,and budgets.
Our Staff
We are committed to sharing this wealth of information and material, and we look forward to meeting you and helping you with your research.

Bill Barrow
Head of Special Collections
(216) 687-6998
w.barrow@csuohio.edu
We're happy to help with questions about local history matters, and we very much appreciate your comments and suggestions. Use our online form or use the contact information above or at the right to call, email or visit us in the Special Collections reading room.
Reading Room Location & Hours
The Special Collections reading room is located on the third floor of the Michael Schwartz Library at Cleveland State University in RT 321 (see Library Directions) and is open Monday through Friday from 1 pm to 5 pm and in the morning by appointment. Hours of operation are subject to change during holidays and semester breaks so please consult Library Hours before planning your visit.

For more information, call Special Collections at (216) 687-2449 or use our online form.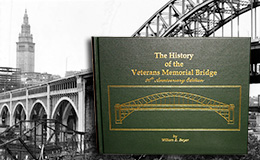 Now Available for Purchase! The History of the Veterans Memorial Bridge: 90th Anniversary Edition by William Byer
Containing hundreds of glossy photos that offer a unique opportunity to glimpse into previous eras in Cleveland, The History of the Veterans Memorial Bridge: 90th Anniversary Edition by William Byer documents the history of the original construction of the bridge and the two major rehabilitations. Find out how you can own a copy.