Michael Schwartz Library
Special Collections
Reading Room Procedures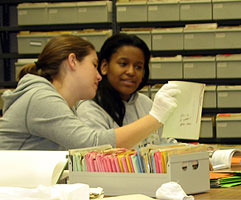 The Special Collections of the Michael Schwartz Library at Cleveland State University contain resources for the free use of the general public as well as university students and faculty. Special Collections contains many materials useful for local history research, including the Cleveland Press Collection, the Cleveland Union Terminal Collection, and the Watson Bridge Collection. Special Collections also contain other library resources that are rare, unique, or in need of special care.
We adhere to the ALA/ACRL Standards for Ethical Conduct for Rare Book, Manuscript, and Special Collections Librarians, with Guidelines for Institutional Practice in Support of the Standards (2d edition, 1992).
Registration & Access
You may browse all materials in the open area of the reading room. Please use no more than one tray of Cleveland Press clippings at a time.
To access the photographs, request the desired items at the Registration Desk. No more than one folder of photographs may be used at a time. Photographs must be handled only at the designated tables.
If you have a lengthy project, please discuss it with the staff. Current policy is to limit staff assistence to one half hour per patron, per day, for a three day period.
Some books, due to their condition, may need to be used on bookstands. The librarian will notify you if this is the case.
Please do not reshelve materials.
Some materials in the collection may be inaccessible for a variety of reasons including, but not limited to: condition of the material, legal considerations, and the requests of the donors. Please be understanding.
Limited reference work may be provided over the phone, e-mail, or by FAX, if the research goals are clear.
If an item appears to be misfiled, damaged, or otherwise out of sorts, please inform the staff member on duty.
Loans & Copying
Special Collections materials are solely for reference and do not circulate.
Cleveland State University makes no claim of copyright ownership for the materials in Special Collections. Organizations and individuals seeking to use materials for publication must obtain permission directly from the copyright holder. Failure to do so could be a breach of copyright law.
You may photocopy and scan materials held by Special Collections, subject to restrictions on fragile materials, with the understanding that you are responsible for how you intend to use these materials. We assume you are using them for purposes covered under Fair Use regulations.
Photographs may be reproduced by the Library's Digital Production Unit. You may also bring your own camera or scanner and digitize our images for yourself, within reason.