Michael Schwartz Library
Special Collections
Mission Statement & Guidelines for Evaluating Collections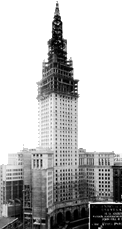 Mission Statement
The mission of Special Collections at the Michael Schwartz Library, Cleveland State University is to engage and support the research, teaching, learning and reference objectives of the University's various constituent communities, particularly as they pertain to the history and development of greater Cleveland and northeast Ohio. The twin values characterizing this mission are providing excellent access to resources and building strong relationships within the local community.
Guidelines for Evaluating Collections
The following guidelines are intended for use in evaluating collections that are offered to the Library, for collections that the Library is considering purchasing, and for collections that the Library is considering soliciting. These guidelines need to be considered in a flexible manner, but generally the more a prospective collection conforms to the guidelines, the more desirable it is.
Mission - Does the collection meet the mission of Special Collections?
University - Does the collection meet the goals of Cleveland State University and the curriculum interests of the faculty and students?
Resources - Would it be feasible for the Library to process the collection given available staff?
Condition - Is the collection in suitable condition to permit normal use and processing, including possible digitization?
Funding -Does the collection either come with funding for processing or is it likely to attract funding in a reasonable amount of time?
Linkage - Is the collection likely to facilitate opportunities for other collections?
Conditions -Is the collection free of restrictions or complications related to ownership, use, access, and copyright concerns?
Compatibility --Does the collection compliment and strengthen existing materials and topics?
Uniqueness -Does the collection represent unique material for this library rather than duplication of material or similar material in other libraries?
Digitization -Does the collection lend itself to digitization so that Internet access can be provided?