Michael Schwartz Library
Digital Design Studio RT 301: Equipment Loan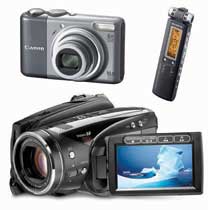 Current CSU students may borrow many items from the Digital Design Studio for two days, including camera kits, studio and ring lighting, microphones and audio kits. Just ask at the 3rd floor Digital Design Studio Service Desk. Find the details on our DDS equipment research guide.
Students supply their own DV tapes and flash media storage cards, which are available for purchase in the Library vending machine.
After using the new cameras and recorders to capture the information they need, students can work on their digital files at home or use the professional video, audio and image editing equipment and software in the Digital Design Studio to create polished materials for presentations and other assignments. Help with equipment and software is available in the Digital Design Studio as well.
For more information contact the Digital Design Studio at (216) 687-9337.
NOTE: Faculty wishing to borrow similar equipment should contact CIT&DL Equipment Circulation at (216) 687-3846.