Michael Schwartz Library
Digital Design Studio RT 301: Collections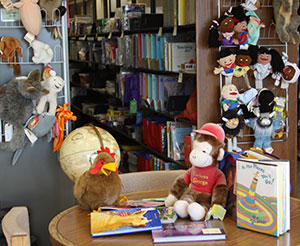 The Curriculum Materials Collection

(including juvenile literature)
The Curriculum Materials Collection in the Digital Design Studio include curriculum guides, activity books, puppets, flash cards, kits, textbooks, audiovisuals, and other resources for K-12 teaching and teacher education. The entire collection is searchable through the Scholar Online catalog. Most Curriculum Materials have a two week loan period.
Juvenile books, also part of this collection, consist of many United States and international children's book award winners and other books representing a broad array of themes, particularly those exploring multiculturalism.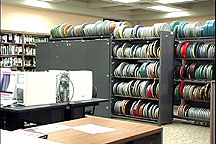 DVD, Video, and Film Collection
The DVDs, videos and films in this collection circulate for one week to CSU faculty, staff and students with a valid Viking Card. Titles are listed through SCHOLAR, the Library's online catalog.
Of special local interest is the Montage Film Collection, which consists of more than two hundred and fifty documentary films which were shown on WKYC-TV, Cleveland's NBC affiliate, from September 1965 to December 1978. Currently 53 of the original programs are available for viewing online.
Faculty may request the Library to rent video or films not available in the Michael Schwartz Library's collection for instructional use. DVD/Video/Film Rental Requests should be submitted four to six weeks in advance.
Music Collection
The Library's music collection in the Digital Design Studio, consists of books, periodicals, scores, sound recordings, videos and films. The music collection primarily supports classroom instruction and research needs of the music faculty and students enrolled in the Department of Music at Cleveland State University.
The collection is strong in the areas of music education, music history, performance, composition, ethnomusicology, jazz, electronic music and performance.
The collection of performance scores is strong in both instrumental and vocal music; there is a research collection of composers' collected editions and monuments of music. Of particular note are the Herbert Elwell Archives, South Indian music collections, and contemporary Polish music.