Michael Schwartz Library
Friends of the Michael Schwartz Library
The Preston White Memorial Fund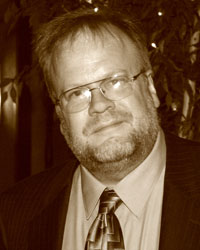 Remembering
Preston
The Michael Schwartz Library in partnership with Health Sciences and CLASS has created a memorial fund in honor of Preston White. Preston, the Coordinator of the Library Computers @ Learning Center (LCLC) and the Assistive Technology Lab, passed away unexpectedly on October 23, 2007. In addition to working in the Library, he was a two-time alumnus; he received his Bachelor of Arts in Psychology in June 1992 and his Master of Arts in History in December 2000. Read more about Preston...
The fund will be used annually for the following missions:
To purchase books that reflect Preston's interests in history, psychology, and recreation.
To support students with disabilities. This will include emergency loans, text books, tutoring or reading support, and technology for the Assistive Technology Lab or for an individual student to support their educational pursuits.
To support information literacy.
To Donate to This Fund
By Mail:

Make checks payable to the CSU Foundation.
You must specify that the funds are to be deposited in the Friends of the Michael Schwartz Library account in memory of Preston White.
Mail to:
Cleveland State University
Department of Advancement Services
2121 Euclid Avenue, UN 501
Cleveland, OH 44115-2454

As Part of Cleveland State University's Faculty/Staff Appeal:

Use a one-time donation or payroll deduction
You must specify under "Library" that the donation is in memory of Preston White
Donors who contribute $100 or more will receive a Michael Schwartz Library commemorative mug: Postcards of Cleveland.
For more information, Please contact Barbara Loomis at (216) 875-9734 or b.i.loomis@csuohio.edu.
Preston White Memorial Fund Committee: Glen Goodman, Health Sciences; Jane Dugan, English Department; Tracy Kemp, Library; Bob Wheeler, History Department; and Kate Yurick, Disability Services
More About Preston
Preston White began his career at Cleveland State University in 1986 as a Library Media Technical Assistant in the Law Library. He then joined the Michael Schwartz Library, Cleveland State University in 1992 as the Current Periodicals/Microforms Unit Coordinator. He served the Library in various capacities over his 14-year career there. Most notably, he was integral in establishing and maintaining two cutting edge labs in the Library—the Assistive Technology Lab for students with disabilities and the Library Computers @ Learning Center (LCLC) for training students in computer software use. He received his Bachelor of Arts in Psychology from CSU in June 1992 and his Master of Arts in History from CSU in December 2000.