Michael Schwartz Library
Friends of the Michael Schwartz Library
Continuous Book Sale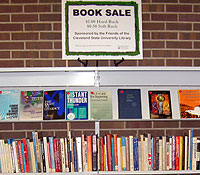 The next time you're in the Library, be sure to visit the Friends of the Library continuous book sale, where donated books and multimedia material can be purchased during normal Library hours. CSU students, faculty, staff, and the general public will find the items for sale displayed on the bookshelves, located just to the right of the Library elevators.
Contact Terri Greer about your
donations for the book sale.
The shelves are restocked weekly with a wide variety of used items, including popular literature and software.
Book Sale Prices
Hardcover books are $2.00 each; paperback books, videos, CDs, software and vinyl albums are $1.00 each.
Patrons may browse the items and pay for their selections at the nearby User Services Desk. All proceeds benefit the Friends of the Library.
We need Books!
You can help the Friends to maintain a continuous flow of books to sustain this popular sale. The Friends accept and appreciate your donations. For information, contact Terri Greer at (216) 687-2376.