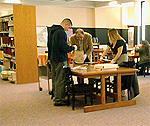 Our collections cover many topics within the field of Cleveland history, with special concentrations on the history of the industrial history of Northeast Ohio, Cleveland journalism, and the city's infrastructure. We are also home to the Library's collections of rare materials, as well as publications from the University Archives about CSU and its predecessor, Fenn College.
F-J
Gerald E. Brookins Collection: Images of streetcars, interurbans, railroads and everyday Cleveland area photographs.
Greater Cleveland Ethnographic Museum Collection: Digital records of several of the museums projects created from the personal collection of Annette B. Fromm, the personal collection of Carole Kantor, the Cleveland Press Collection housed by Cleveland State University Special Collections, and other holdings housed by Cleveland State University. See the collection in Cleveland Memory.
Herbert Elwell Archive: Scores, discs, reel-to-reel tapes, manuscripts, articles, program annotations for the Cleveland Orchestra, and assorted letters and memorabilia belonging to Herbert Elwell (May 10, 1898 - April 17, 1974), a composer, critic, teacher, and important figure in Cleveland's music scene, and donated by Joan Hofer, Elwell's niece.
Humphrey Glass Negative Collection: A set of 700 glass negatives documenting the life and interests of Euclid Beach Park owner Dudley S. Humphrey II and his family during the early part of the 20th century. See the collection in Cleveland Memory.
James A. Miller collection (1981-1993): The collected published and unpublished works of Cleveland poet James A. Miller.
James J. Nance Papers: Personal and professional papers of James J. Nance, local businessman and former chairman of the CSU Board of Trustees.
Janet Beighle French Collection: Ten scrapbooks of newspaper clippings written by Janet Beighle French, the Cleveland Plain Dealer's Home Economics/Food Editor from 1963 through 1986. Also included are articles about food, nutrition, and recipes, as well as two containers of 8x10 color negatives of featured food arrangements.
Jocelyn Chang and Michael Leese Music Collection (1990-2005): An exceptionally rich musical collection representing the lifetime musical accomplishments of harpist, musical innovator, and teacher Jocelyn Chang and her husband, Michael Leese, a flutist, composer, music copyist and recording producer.
John D. Cimperman collection of Cleveland Landmarks Commission records (1973-1991): Personal papers from former Cleveland City Councilman, John D. Cimperman, related to his work in creating and helping to manage the Cleveland Landmarks Commission.
K-M
Lewis Turco collection (1962-2004): Correspondences, bibliography, biographical materials, journal, and select press materials, publications, and personal belongings of Lewis Turco, literary figure, English instructor and founder of the Poetry Center at Fenn College [Cleveland State University]. See the collection in Cleveland Memory
The Marquis de Lafayette Collection: Microfilm reproduction of the La Grange archive of papers of the Marquis de Lafayette.
Montage Film Collection: More than two hundred and fifty documentary films which were shown on WKYC-TV, Cleveland's NBC affiliate, from September 1965 to December 1978. Go to the Montage website.