Michael Schwartz Library
Special Collections
Cleveland Performance Art Festival Collection
The Cleveland Performance Art Festival Collection is a major collection of material pertaining to the Performance Art Festival, which was created by Thomas Mulready in 1987 as a project of Cleveland Public Theatre, then became a separate non-profit organization, running from 1988-1999. Each year, more than 100 artists from around the world came to Cleveland to participate in the Festival. This is probably the largest and most significant collection of material pertaining to performance art in the USA.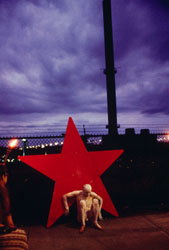 Ivan Rados performing at the
1996 Performance Arts Festival
Thomas Mulready remained involved in the Performance Art Festival (PAF) through its duration, collecting and storing files relating to the festival. These files include video recordings of virtually every performance, photographs, business files, artist applications, posters, and other ephemera. They comprise more than 2000 hours of video, 6000 photographs, and will eventually fill approximately 100 file boxes.
The contents of the Festival archives were divided by Mulready into various series, such as Artist Files, containing all paper materials relating to a given artist, as well as other materials that are easily filed in such a system, including books, CD-ROMs, photographs, and similar items. Other series include Performance Art Festival Videos, which document the performances, usually from two camera angles,
Video: Performance Art Festival + Archive - In this short video, Thomas Mulready talks about performance art, the festival and the collection. (06:17 min.)
A Finding Aid and a Detailed Inventory/Shelflist are also available.