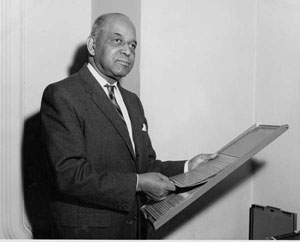 Dr. William O. Walker.
View image in Cleveland Memory
.
In September 1985, Mrs. Naomi E. Walker donated to Cleveland State University Libraries the substantial collection of more than four hundred books and rare historical material which comprise the W. O. Walker collection of Afro-American literature. The first editions and autographed copies are housed in the Special Collections. The more contemporary items have been added to the regular research collection. All books have been cataloged, and donated art objects are displayed in a permanent display case on the first floor of the Library.
Dr. William O. Walker became publisher and editor of the Cleveland Call and Post, a black weekly newspaper, in 1932. He built the newspaper into one of the largest black weeklies in the nation. As its publisher he became a power in Cleveland, speaking out for civil rights and exposing discrimination and wrongdoing. Besides being an editorial voice, he was a mighty political force in the Republican Party. He was a councilman in the 1940's and in the 1960's became Ohio's first black Cabinet member, as industrial relations director for Governor James A. Rhodes. At the time of his death, he was under consideration by President Reagan to become chairman of the U. S. Civil Rights Commission.